To integrate Uniware with Amazon.in or any country's Amazon, you need to get your Amazon account identifiers and credentials.
You can add the below Amazon's channel with the same way.
| | | | |
| --- | --- | --- | --- |
| AMAZON_Arab Emirates |  AMAZON_FR |  AMAZON_US | AMAZON_FBA |
| AMAZON_SG, | AMAZON_Aus | AMAZON_JP | AMAZON_ES |
|  AMAZON_IN | AMAZON_UK | AMAZON_AE | AMAZON_MX |
| AMAZON_IT | AMAZON_FBA_US |  AMAZON_CA | AMAZON_JP |
| AMAZON_DE | | | |
Follow these simple steps to integrate Amazon in Uniware:
1- In the Uniware menu, select Settings > Channels

2-Then press the button
Search and Select "AMAZON_IN".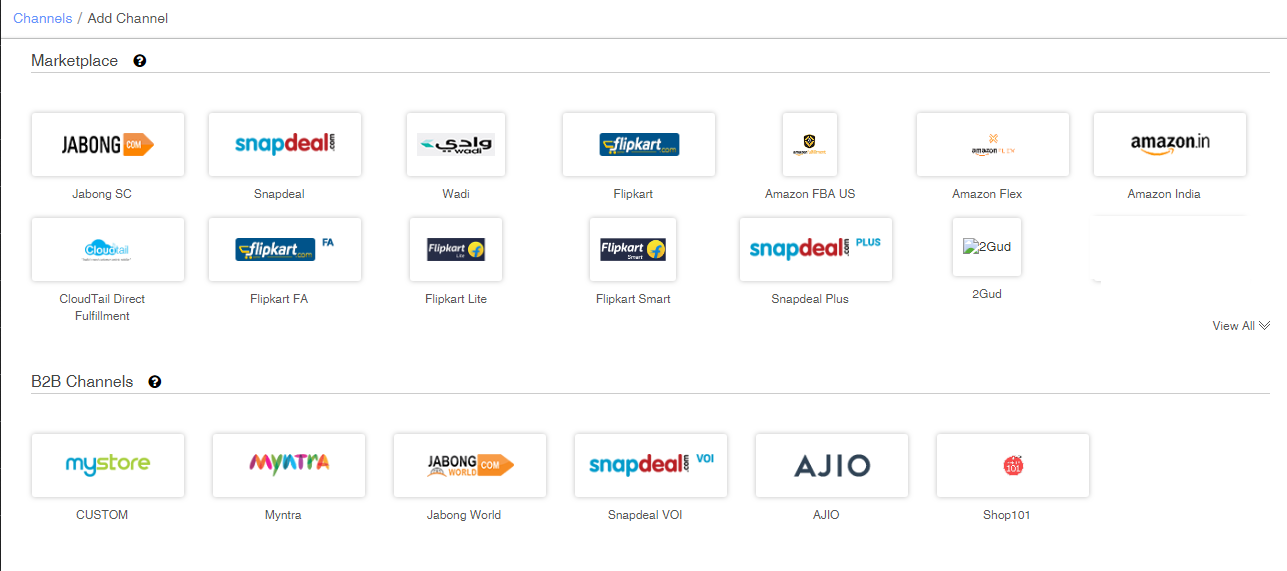 3- Fill and save the channel details.
Also, To Generate MWS Auth Token
1- Login on https://sellercentral.amazon.in or for you country domain amazon link like Amazon.sa or Amazon.ae and in settings select User Permissions
2- Click on Visit Manage Your Apps
3- Click on Authorize new developer
4- Get in touch with Unicommerce support team for generating API credentials of Amazon.
5- Use these credentials for uniware credentials.
6- Copy and update Seller ID, Marketplace ID and MWS Authorization token in Uniware on the Amazon Connectors page.
NOTE: Update NA for Secret Key and AWS Access Key Id, the system will automatically pick internal credentials against these and all processes will work fine.
7- Connect the Amazon 2 Factor Authentication) > Click Connect.To configure this, you need to get your Amazon account and credentials and ask amazon to add Two-Step App process or follow the steps mentioned in the article "Amazon 2 Factor/Step Authentication"
8- After connectors are configured turn on the Order & Inventory Sync for managing orders and inventory of Amazon channel.
NOTE:  After you Turn ON the Order sync, you get to see pre-filled values in important parameters (explained below) to be configured for order sync.
Auto Verify Orders- Yes (orders will get fetched directly in Pending Orders tab, you can edit this filled to get the orders fetched in Unverified tab)
Pick Up Slot For Easy Ship Orders – First (based on the pickup slot available on Amazon, you can edit this field to select "Second" slot as per your requirement)
Pick Up Time For Easy Ship Orders – 1400 (based on the pickup time available on Amazon 1000-1300 and 1300- 1600 (hrs), you can edit this field to save any of the desired pickup time)
Print Order Statement With Shipping Label? – Yes (order statement will be fetched on the label of easy ship orders if you do not want to fetch the order statement along with the label*, change this field as NO)
Shipping Label Aggregation Format: This option will provide you the label print as per the page setup by default it will set as NONE it gives you two order labels at one page. For Thermal Printer Setup set this option to A4 to A6.
Label*- Amazon invoice and label are now fetched from Amazon panel itself.
Variants– NO (update this filed based on catalog listings uploaded on Amazon)
TAT– 48 (in hrs, based on TAT updated on Amazon for dispatching orders)
NOTE: To have different TAT for different SKUs
Update TAT (in hrs) in item master and upload in Uniware. The system will update the same on Amazon while updating inventory. In case item master's TAT is kept blank system will update TAT defined on the channel's page.
Note: You can add Amazon Arab Emirates, AMAZON_US, AMAZON_FR, AMAZON_IT, AMAZON_DE, AMAZON_ES, AMAZON_CA, AMAZON_FBA_US, AMAZON_MX, AMAZON_JP, AMAZON_IN, AMAZON_FBA, AMAZON_AE, AMAZON_UK, AMAZON_SG, AMAZON_JP & AMAZON_Aus a new channel with the same way.
Note: You can add any channel which is available in uniware channel list.
Macarron (Vely Monkeys Pvt Ltd), Jignov, Next Door Hub, DALMIABIZ, Shop 101 and many more.
Know more about channel creation