To integrate Uniware with Aramex you need to get your account identifiers and credentials.
To Integrate with Uniware, follow the following steps:
1- On the path Settings > Shipping Providers.
2- Search for Aramex.
3- Click on ARAMEX and fill the details.

4- Enable the shipping methods, COD and Prepaid, as per your requirement.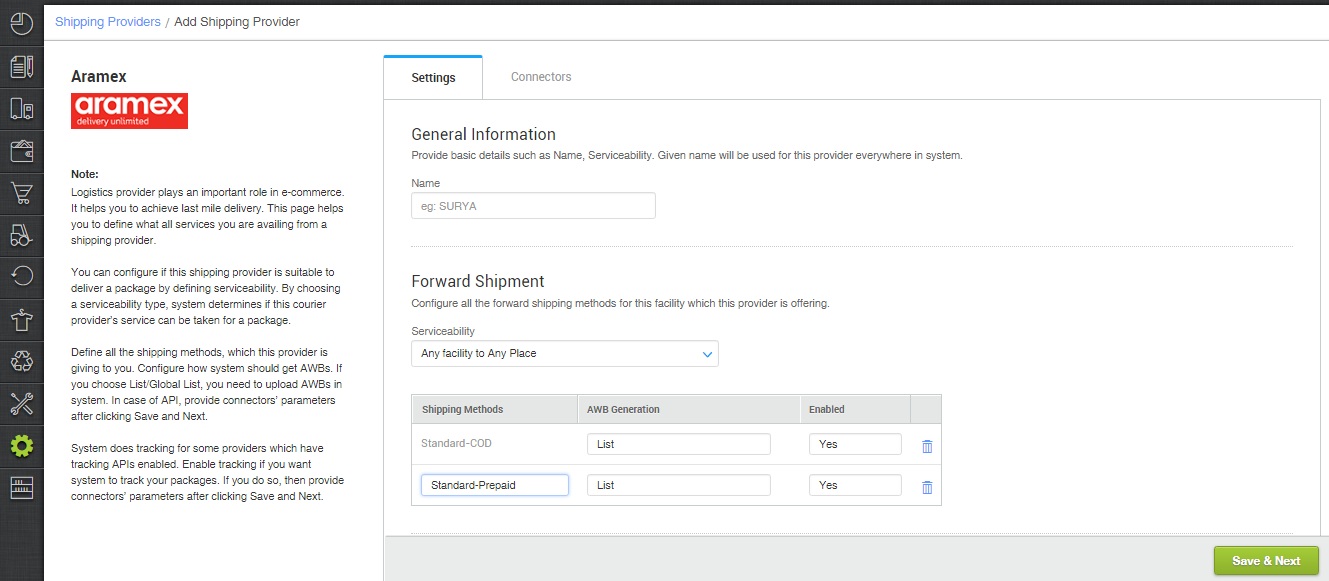 Learn more about the adding a shipping provider
Fill in the general details like its name, serviceability and shipping methods. Learn more about Serviceability(Pincodes).
5-  The AWB Generation can be done in many ways –
LIST the system will pick the tracking number or the AWB number from the list we feed. On clicking it the system allows you to enter the list of AWB numbers. For more information on ways of adding AWB numbers to a shipping provider Click Here
GLOBAL LIST is the common list of AWB numbers across all facilities.
MANUAL then every shipment allotment to a courier will require a manual entry of the AWB number during the shipping package addition to its manifest.
API the API fetches the AWB number every time a shipment is assigned to this courier.
6-  For API AWB generation, you can fill the optional value at connector which will be provided by the respective shipping provider.
Select AWB Generation Method = API.

7- After saving these details, configure the API details in the Connectors tab.
If you want to connect Aramex with API to fetch AWB from there panel. select Connectors tab.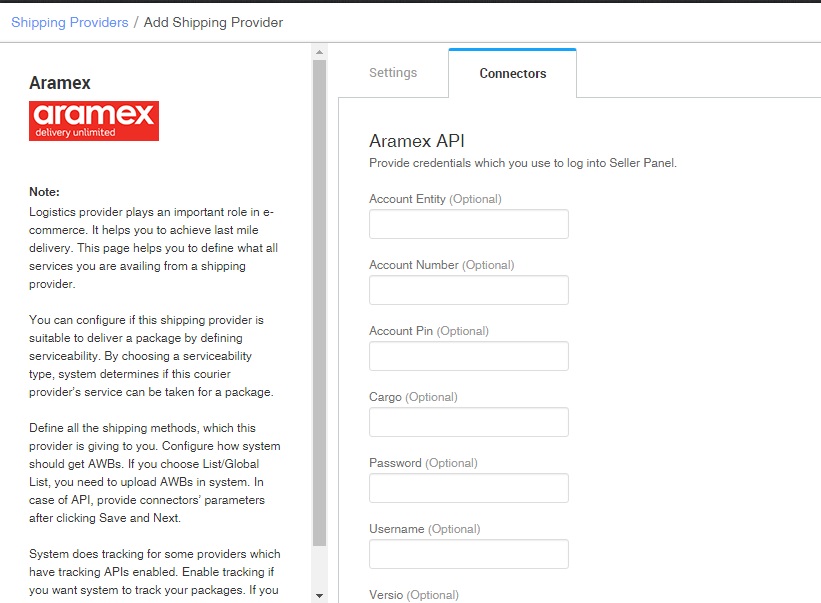 The following parameters are required which you use to log into Seller Panel. These values are as provided by the Aramex services.
Account Entity (Optional)
Account Number (Optional)
Account Pin (Optional)
Cargo (Optional)
Password (Optional)
Username (Optional)
Version (Optional)
Account State Code (Optional)
Account Address (Optional)
Account City (Optional)
Account Pin Code (Optional)
Product Type (Optional)
Product Group (Optional) DOM,EXP
Live (Optional) true/false
Login Username (Optional) for CSB V handling for International shipments
Terms Of Trade (Optional) FOB, C/F, C/I, CIF for CSB V handling for International shipments
Pickup Time (Optional)
Pickup Schedule (Optional)
These values generate the test COD and Prepaid Label for testing first, and after the initial round, it is approved by Aramex. At this stage the parameter "Live" is FALSE.
Post-approval Production Label is generated, and the parameter "LIVE" is set to TRUE.
Aramex – CSB V handling for International shipments
Support of CSB V for shipments being sourced from India to International has been added. Please note for all the shipments which are shipped from India to International, Uniware will be submitting the CSB V details to Aramex after AWB generation.
In parameters required: please fill the below parameters as well:
– Login Username
– Terms of Trade
---
Suggested videos:
How to enable/disable courier providers