We are now integrated with  AJIO Dropship
The integration will only work in Enterprise and Professional accounts. Have any doubts or questions feel free to discuss with us at chat support. Click Here
Follow these simple steps to integrate AJIO Dropship in Uniware:
A- In the Uniware menu, select Settings > Channels
B- Then press the button

Search and Select "Ajio Omni"
C- Fill and save the channel details.
In case of dropship model, seller should use channel name as AJIO_Dropship.
Need to ensure that seller has created a CUSTOMER in UC and associated it with channel, UC will be generated B2B invoice for same.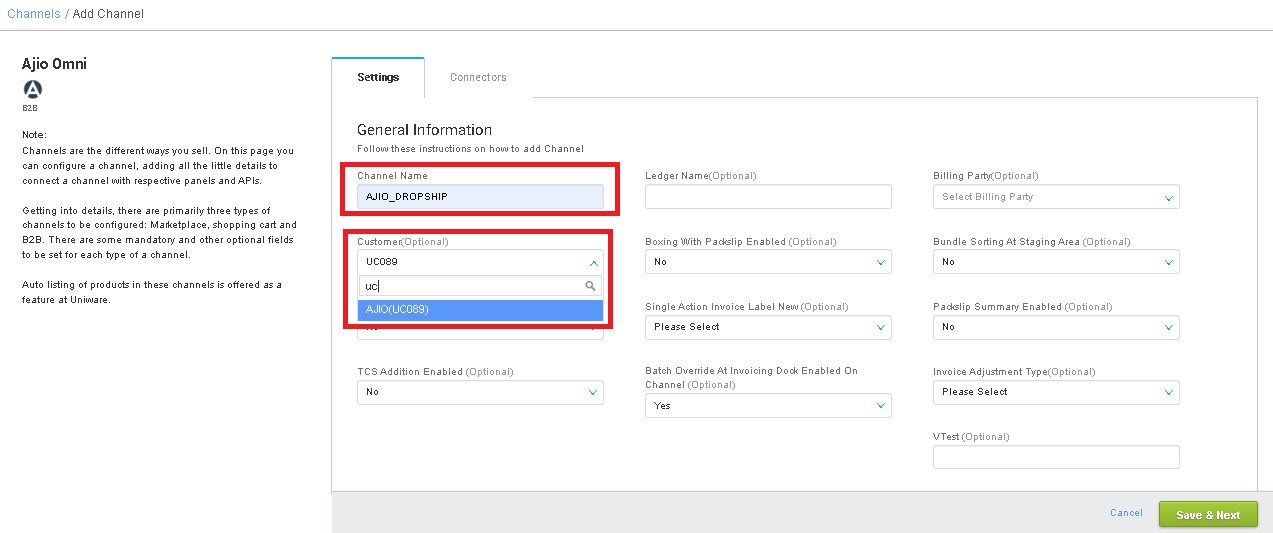 D- Fill the credentials to configure the connectors:
The username to be updated in Uniware is AJIO's "POB ID", which will start with DV and this will be provided by AJIO itself.
For Dropship mode, a unique (facility warehouse code) must be added at channel connector in Store Code.
Default settings are as below.

Once connectors are connected, you can configure all related parameters as mentioned below.
Turn ON the Order and Inventory sync.
Single Action Invoice Label New: No

Choose Facilities For Inventory Sync: While configuring the Store/warehouse code on the connectors page, it should be checked and ensured that the particular store is also select here with other warehouses.

Channel Order:  Select it NO then orders will be created as dropship mode and auto acknowledge would be sent.
Below are the important points that need to be kept in mind while adding the channel.
This Integration is available on Enterprise and Professional accounts only.
Unicommerce offers Catalog sync, Inventory sync, Order sync, Invoice details.
Order verification is required for this dropship mode of AJIO.
Orders pendency and Order Split is not there.

Complete order processing and inventory updates will remain the same as per the standard process.

Invoices: First B2B Invoice details generate by uniware with own series then B2C Invoice and label details get sync as label format in uniware.

For Invoice Template, As per AJIO requirement, that B2B invoice should have channel name as AJIO_DROPSHIP and not AJIO_OMNI. channel name must be AJIO_DROPSHIP by default it is AJIO_OMNI in UC.

Please ensure Type C or Type GST template is being used if not sure then raise a ticket on support.

Sellers should ensure that they have added signatures on facility / billing party else they'll get errors in order processing.

Need to ensure that seller has created a CUSTOMER in UC and associated it with channel, UC will be generated B2B invoice for same.

Shipping is handled by channel. Tracking details and label print will be fetched from the channel for Marketplace shipping.

Label/Manifest file will be fetched from channel.

Status sync will work for cancelled and dispatched and Return orders.

Cancellation Sync: Cancellation sync to Uniware is present.

Cancellation Sync: Cancellation sync to AJIO is present if order cancelled before order verification in UC. Here also cancellation will be allowed after accepting/verifying the order.

On return completion, UC push return invoice details to Ajio.
---
Suggestion: Browse through these pages – 
Add a new channel,

Click

here

.