Flipkart Omni is available with uniware under B2C model Market place.
Follow these simple steps to integrate in Uniware:
1- In the Uniware menu, select Settings > Channels

2-Then press the button
Search and Select "Flipkart Omni".
3- Fill and save the channel details.
4- Add channel Flipkart Omni with both seller panel details. Fill the credential to configure the connectors.
For inventory connector, you need to get in touch with Uniware support team via chat ticket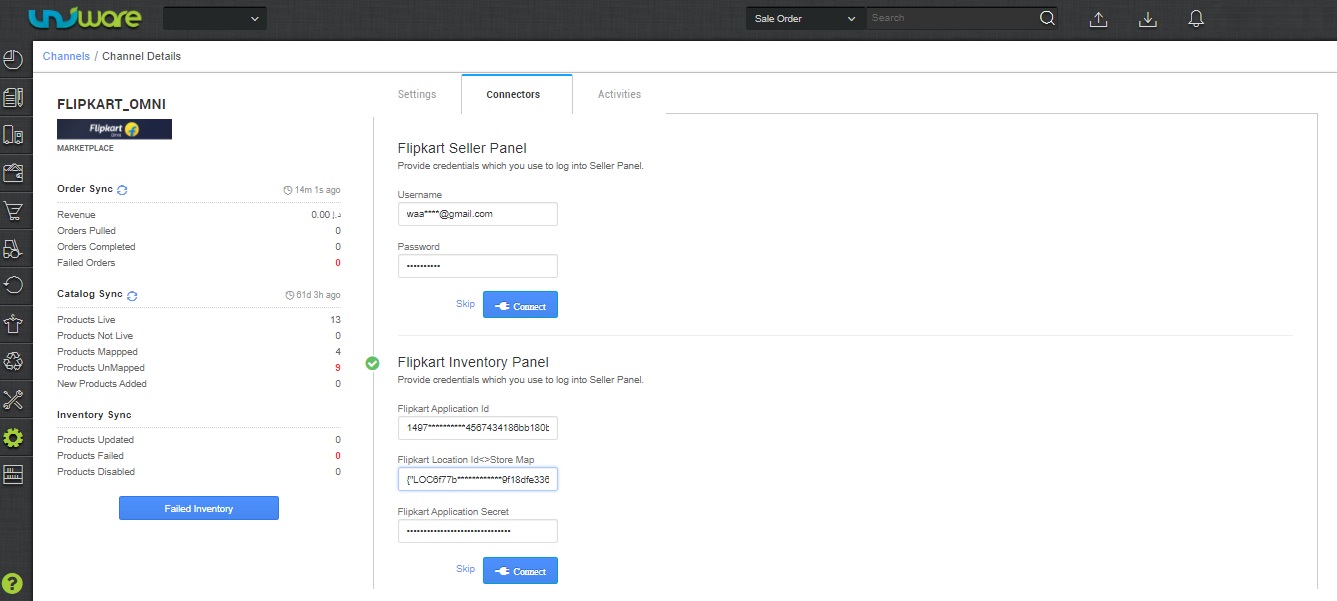 5-As soon as the channel is configured successfully, you can see the Channel Summary and You can trigger the respective sync processes from this page itself. For more detail Click here
Onboarding steps:
For location id and inventory connector you need to get in touch with Uniware support team via chat ticket
On Flipkart portal, Catalog items should have fulfillment by "Seller" and Shipping provider should be "Self Ship". Failing this order cant be placed on Omni seller.
Set Facility wise inventory setting to true upon connecting connectors; else system will not be sending inventory until and unless there is a change in the inventory count.
Selective facility configuration at tenant level must be 'ON' on channel.
All seller stores must be hopping enabled else, the orders would be auto accepted in the store.
Seller must share store wise serviceability with Flipkart's POC so that orders can be placed against the listings on Flipkart panel based on customer's location.
Shipping Rules must be setup for any of the permitted shipping providers (FEDEX, EKART, DELHIVERY, BLUEDART  AWB Mode via API)
If seller has multiple stores at same Pincode then Flipkart will provide only one location id but in UC same has to be mapped individually.
Below are the important points needs to be kept in mind while adding the channel.
Complete order processing and inventory update will remain same as per standard process.
Order sync available.
Inventory sync available.
Catalog sync is available. Only catalog items which are seller fulfilled and having 'Shipping provider' as self at panel.
Invoices: Details to be sync from channel
Label : FlipKart suggests to use only 4 couriers i.e. FedEx, Bluedart, Ekart & Delhivery AWB Mode via API. Unicommerce allocates provider and generate labels.
Manifest : will be generated by Uniware.
Status sync : Unicommerce will only update status till dispatched and Flipkart will track the AWB's status directly from courier providers.
Does the marketplace support shipment split or not? – No, one item one qty
Order cancellation from UC to marketplace configured? Yes
FK will be providing first facility to allocate and later on hopping rules will be owned by Unicommerce.
You can add any channel which is available in uniware channel list.
Macarron (Vely Monkeys Pvt Ltd), Jignov, Next Door Hub, DALMIABIZ, Shop 101 and many more.
---
Suggestion: Browse through these pages – 
How to disable an existing channel?
AJIO Order Processing Using Seal ID
Add a new channel, Click here.