Unicommerce provides a feature of Payment reconciliation-
Once you (a seller) actually receive the payment from the respective marketplace, the system will highlight the difference, if any and you can easily identify the point of discrepancy (if any) to be sorted.
Now, with Payment Reconciliation in place, you can generate your entire P&L by specifying the input product cost, as it would help you identify payment received against an order item and compare it to the cost for which you procured the order item. Click to know How can you identify your Net Profit with the help of this feature?
Check out our latest video for the feature!
This feature is currently enabled only for channels:  FLIPKART, FLIPKART LITE, FLIPKART ADVANTAGE (FA), FLIPKART SMART, AMAZON, FULFILLMENT BY AMAZON (FBA), SNAPDEAL and LIMEROAD. Other channels will follow soon.
Reconciliation tab is visible only for Admin and

Finance Manager

users.
Reconciliation can be switched on from the channel details page.
1-
2-
3-
You will find a new RECONCILIATION icon on the menu list. Data will be available on this page if you have switched this feature on even for one channel.
The Reconciliation page consists of many tabs as shown in the image below. Each tab contains records of corresponding Reconciliation status.
Let us try and understand the meaning of each tab/ Reconciliation status:
1. Awaiting Payment
This tab contains all the transactions made on a marketplace. These transactions have payment awaited from the marketplace.
2. Unreconciled
The transactions for which payment has been received from the respective marketplace(s) but has not been validated to confirm if the right payment has been received or not.
You can mark any transaction reconciled by selecting the respective transactions, and clicking "Mark Reconciled" button.
3. Reconciled
Transactions for which payment has been received and you agree with the payment that has been received.
4. Disputed
This tab contains all the transactions for which the seller has raised a dispute with the marketplace.
You can mark a transaction "Disputed" from Unreconciled by selecting the respective transactions, and clicking "Mark Disputed" button.
While marking them "disputed", you can also capture the user comments.
5. All Transactions
All the transactions whether Reconciled or not (with all Reconciliation statuses) are reflected here.
6. Settlements
The Settlement Invoice numbers are unique identifiers as fetched from the channel. Each Settlement Invoice Number contains a list of order items. It is the reference Number containing COD and Prepaid invoices for a particular date.
Total Settlement Value is the total money credited to Seller's account against a Settlement Invoice Number.
Filters
The system highlights the % difference in the expected and received amounts.This value is defined in percentage and can be seen in % Settlement column in any tab of RECONCILIATION page. You can filter out the transactions exceeding a given percentage value.
The other columns like Order ID, Order date, Channel, Reconciliation Status, Uniware status and Settlement values have filters and you can easily search them in these columns.
Exports
We can export all payment details as a report in Exports on Reconciliation page.
Dashboard
The Dashboard highlights consolidated details of Received Payment (unreconciled) with Marketplace Deduction & Settlement Value and Outstanding Payment (Awaiting Payments) specific to respective channels.
To Check, Go to Dashboard> Payment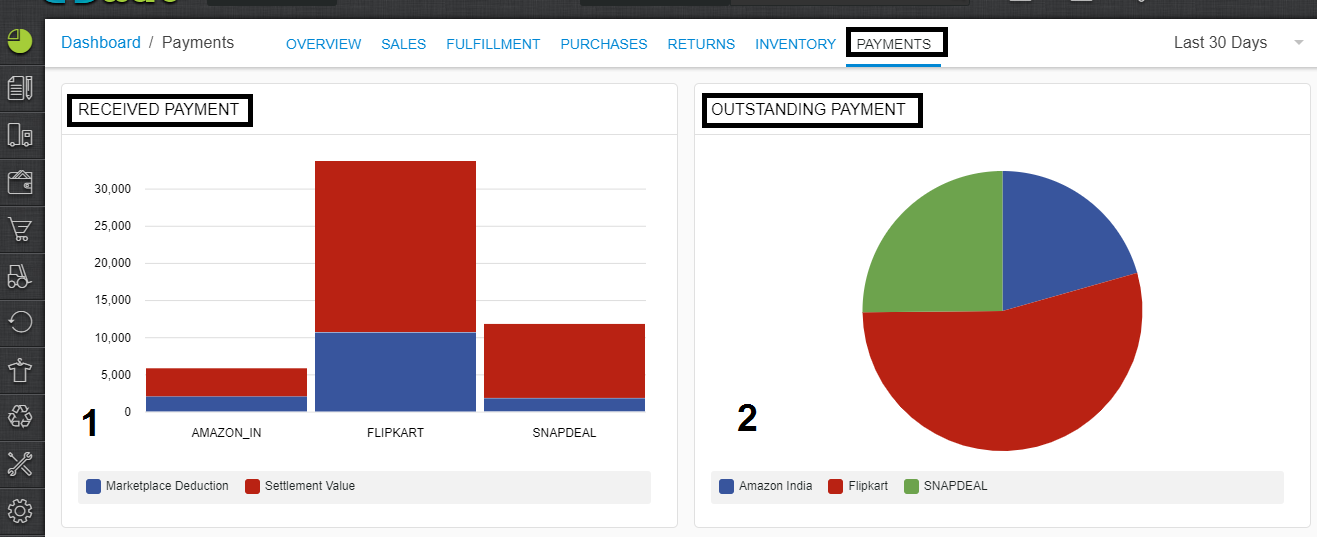 Ref Video:
---