VELY MONKEYS (Maccaron) is available with uniware under B2C model Market place.
Follow these simple steps to integrate in Uniware:
1- In the Uniware menu, select Settings > Channels
2-Then press the button
Search and Select "VELY MONKEYS (Maccaron)".

3- Fill and save the channel details.
4- Add channel VELY MONKEYS (Maccaron) with both seller panel details. Fill the credential to configure the connectors.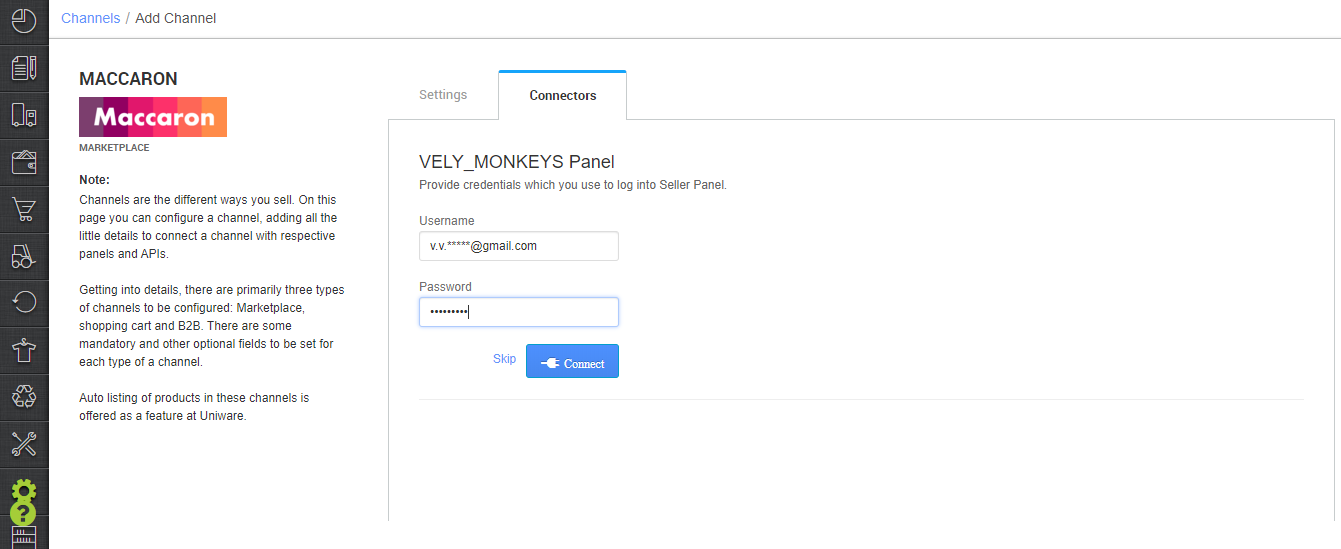 5- As soon as the channel is configured successfully, you can see the Channel Summary and You can trigger the respective sync processes from this page itself. For more detail Click here
Below are the important points needs to be kept in mind while adding the channel.
Order sync, inventory sync and catalog sync are available.

Invoice series will be generated on seller panel and will be synced into Uniware along with Tax details.
Status sync will work for Cancelled/Dispatched/Return Status.
Shipping for all orders will be arranged by channel only and label file will be fetched from channel.
Note: You can add any channel which is available in uniware channel list.
Macarron (Vely Monkeys Pvt Ltd), Jignov, Next Door Hub, Thashop, Shop 101 and many more.
---
Suggestion: Browse through these pages – 
How to disable an existing channel?
AJIO Order Processing Using Seal ID
Add a new channel, Click here.