Process of putaway will adjust the inventory count for the products correctly on the dedicated shelf. For those shipments which are courier returns or direct returned or items by any other process at the warehouse are eligible for putaway process.
Putaway can only be created for those shipments which have been 'dispatched' through uniware.
Process steps are below:
1. On the Path Inbound — > Putaway, select the Putaway type as per your action for
For Courier Returns select PUTAWAY_COURIER_RETURNED_ITEMS
For Direct Return select PUTAWAY_RECEIVED_RETURNS
For Shelf Transfer select PUTAWAY_SHELF_TRANSFER
For PICKLIST ITEM select type as PUTAWAY_PICKLIST_ITEM
For Cancelled invoiced order items select PUTWAY_CANCELLED_ITEM
For Item barcodes from Good to Bad PUTAWAY_INSPECTED_NOT_BAD_ITEM with item traceability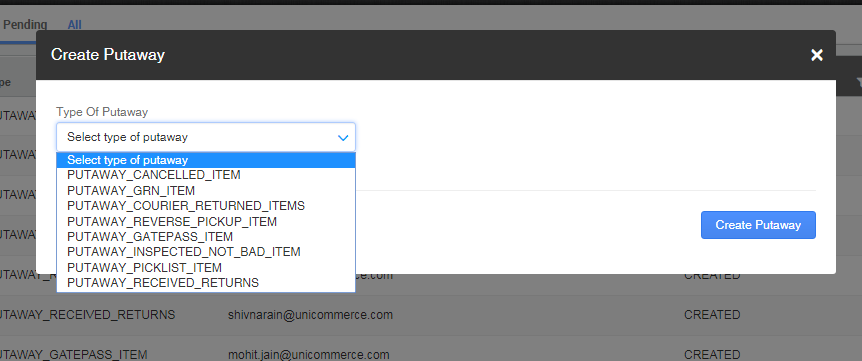 2. In the created Putaway, either scan the shipment number(s) or scan the SKU code (scannable identifier) for shelf transfer also for Putaway Picklist Item.
3. You can create and print the putaway list.
4. You can edit the Shelf code and the quantity of the product carried through edit putaway (before completing the putaway).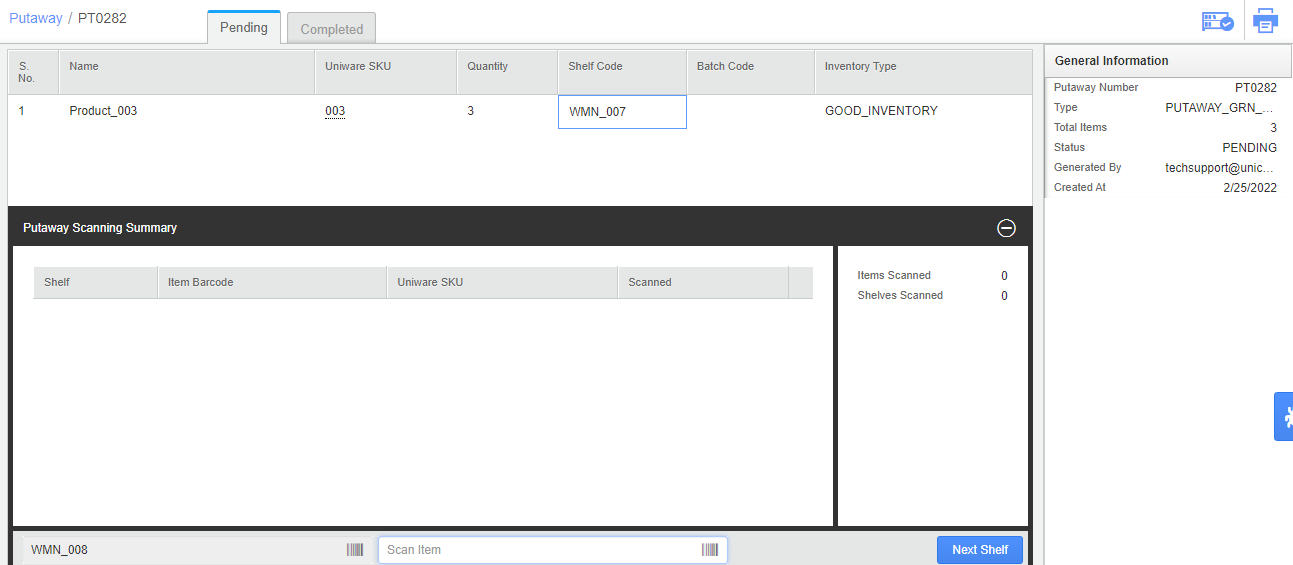 5. Don't forget to Complete the put away after the inventory is placed back on the shelves!
Note: You can now track putaway ID against which inventory release for cancelled/return Orders from Sale Order Activity History.

Putaway for cancelled order items can be done in bulk as well from Fulfilment tab as well. Please follow the below path
Fulfilment >> Shipment >> Putaway Pending

Select the shipment or order ids and take the action to complete it.