A:
Billing Party is the person or company details who provide a consolidated or separate bill directly to the customers, channels or both. In uniware, it will work the same as facility details do.
We create a Billing party for the following reasons:
Associate billing parties with a Sales channel, so that we can sell with different seller names.

To maintain different invoice series at different market places.

To maintain the different address other than the facility.
Notes: Billing party invoice series will not generate on order invoice for those channels for which uniware sync the invoice details from channel side.
For MarketPlaces like Flipkart, Amazon, Snapdeal, Nykaa and more, we will sync the invoice series from there channel as before we do. you no need to worry for it.
A billing party can be defined at Uniware:
1. On the path Setting -> Billing parties
2. Click the button

3. Define the billing party with simple configurations, just as explained below the image.
Rest of the fields have obvious meanings and can be easily understood with the definitions on the page.
4. Just as you hit the button
, the billing party configuration is saved in the system.
5. To set the invoice series for billing party, Go To > Invoice Sequence and change your prefixes for following parameters-
SALE_INVOICE: Invoice generated at the time of supply of taxable goods/services.
SALE_RETURN_INVOICE:  Invoice generated against putaway created for dispatched items. It will act as a credit note i.e Invoice against return of sale.
NOTE: It is mandatory to keep different prefixes for the above parameters for different billing parties to avoid issues in creating invoices or operating putaway functions related to channels associated with respective billing parties in Uniware.
6. On the path Settings >Channels, when you configure a channel, you can set this billing party code to associate it with that sales channel.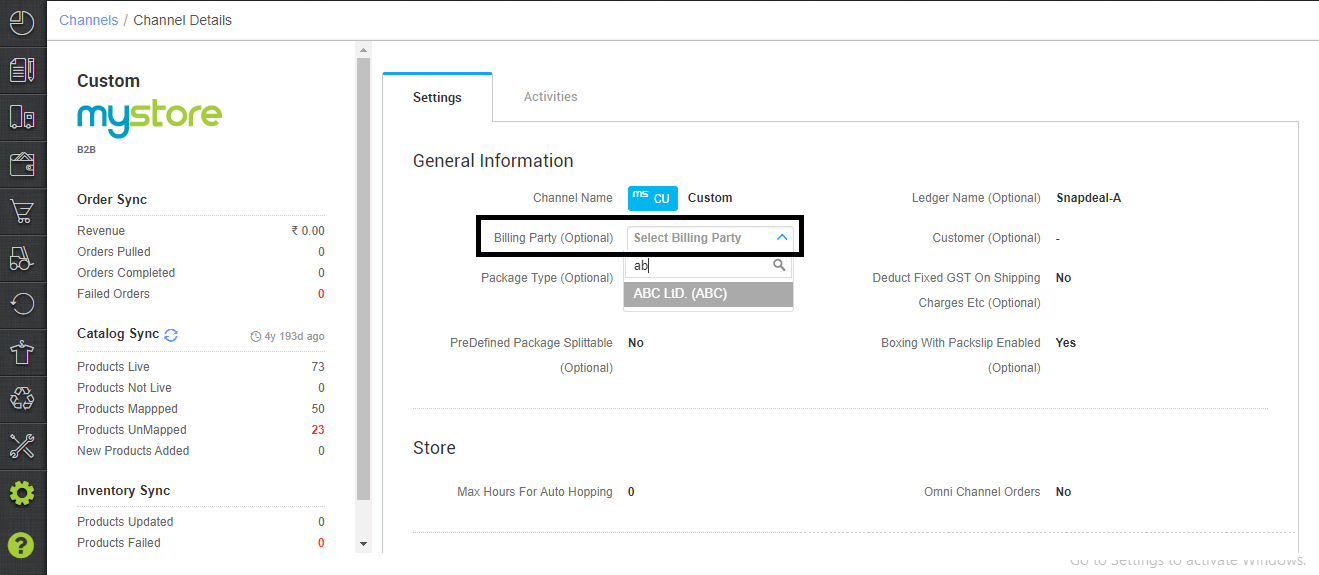 Now once you generate the invoice for such channels your order invoice will have the same billing details and invoice sequence which you made in billing party.
How to update Invoice sequences in Uniware?
How to update GSTIN in Uniware?
Recommended for you:  Accounting Software Integration for E-commerce Business
---