Return To Origin (RTO)
In case a shipping package could not be delivered at your door step for a certain reason like, door found locked or location not found etc, the item must return to the warehouse.
At the warehouse, the process would involve creating a manifest for the return.
Let's learn how to do it.
1.  We create a return manifest for the shipping package. Follow the path Returns and select 'Create Manifest' in the sub-menu.

2.  Select the shipping provider (that one from which the shipment was originally sent) on this page and add comments, if any. Click on 'Create Manifest'.

3.  Scan the Shipping package code which has update by courier status for return expected or its AWB number.


4. Add the reason for return, if any, then you can add more package by the same way or you can close the return manifest.

5.  This shipping package must now be accessed in the 'Awaiting Actions' (Path: select Returns in the main menu and 'Awaiting Actions').
6. Scan the shipping package number/ AWB number/ Sale Order code or even the Shipping provider to fetch this shipping package.

7. Select the items from the shipping package content and then the action to be taken.

Significance of each action is as explained below:
8. After selecting the intended action, hit the button.

9. If you choose "Reship Immediately and Expect return", the shipping package status is updated to "Return Expected". In case of other actions selected here, the status of the shipping package continues to remain "Return Acknowledged" only.

10. And a new sale order is created automated with same order details, as explained in the steps above.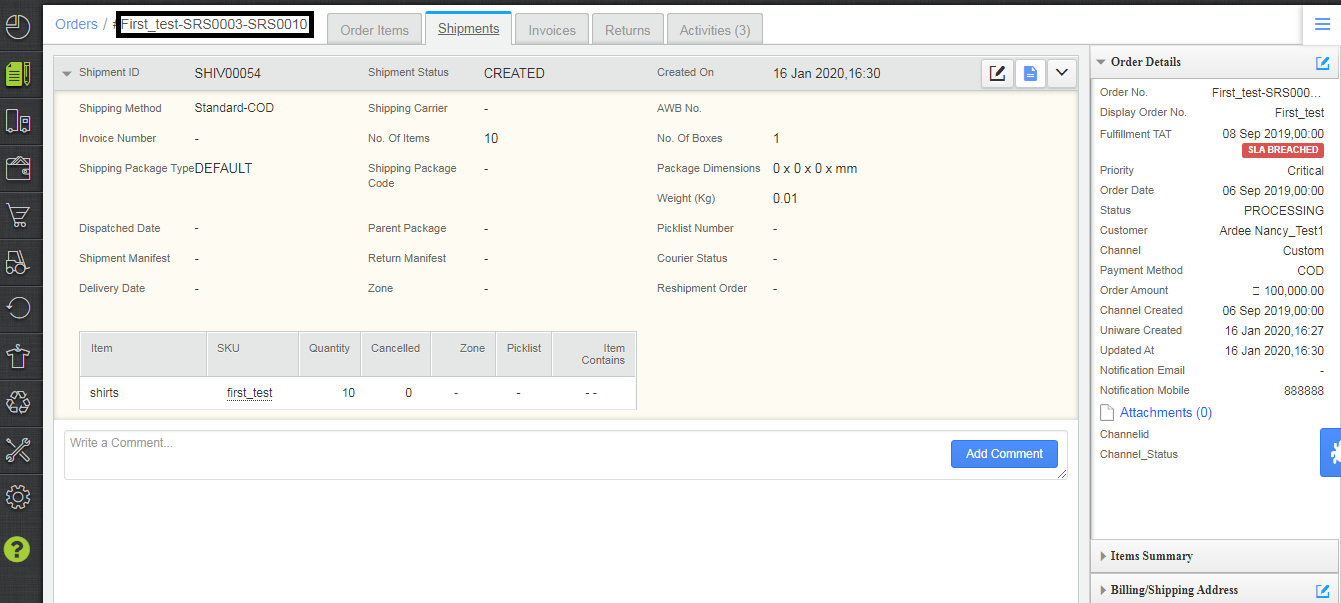 Now we have to do putaway for the returned order which was returned back by the courier. Follow the below steps:
11.   On the physical return of the item, you have to create a putaway.
A-

B-

C- In the created Putaway, either scan the shipment number(s) or scan the SKU code (scannable identifier) for shelf transfer also for Putaway Picklist Item.

D- You can create and print the putaway list. Verify the shipment status updated to "Reshipped" (since the returned product has physically returned to the Warehouse), and then select whether the returned item is a good or bad inventory.
E- You can edit the Shelf code and the quantity of the product carried through edit put away (before completing the put away).
F- Don't forget to Complete the put away after the inventory is placed back on the shelves!
Note: Put away direct returns must be created for all the shipments returned from the channel
---