1- Enabling The Feature
The Reverse Pickup feature (Getting CIR, Creating Reverse Pickups, allocating AWBs, tracking Reverse Pickups) will work only for those users who opt in.
To enable Reverse Logistics management in your Uniware, You need to get in touch with us through Chat Support.
2- Courier Configuration
Go to Settings> Shipping Providers> Delhivery> Enable shipping method (Reverse Pickup Prepaid)
Also, enable the tracking parameter.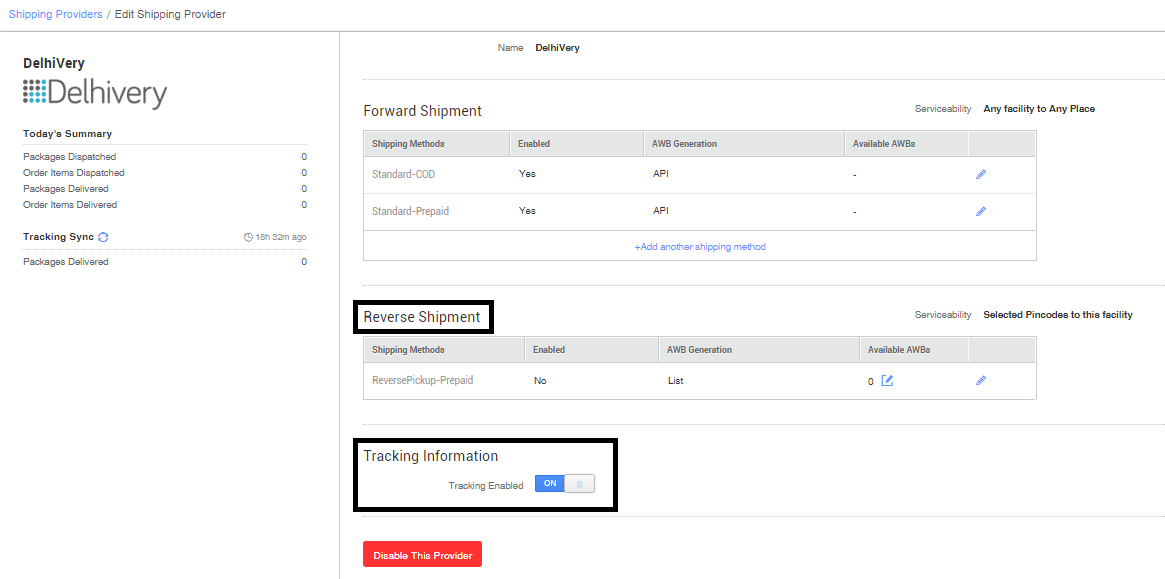 1-Create Reverse Pickup
Manually Create CIR Reverse Pickups corresponding to the customer return requests- To know how to create CIR in Uniware, Click here
2-Courier Allocation
Single Allocation
Choose a courier partner from the list of eligible couriers available for the given serviceability for a particular customer return request.
Bulk Allocations
Go to Returns > Reverse Pick Up> Select Checkbox to take action for Unassigned Pickups
3-Putaway
On the path Inbound> Put away, select the Putaway type- 'PUTAWAY_REVERSE_PICKUP_ITEM'
The product details for quality checks are shown during the putaway of reverse pickups for convenience. Here you can do Quality Check (Good or Bad Inventory ) against returned items.
Don't forget to Complete the put away after the inventory is placed back on the shelves! To know more about Putaway, click here.
4-Report Generation For Reverse Pickups
1. On the path Dashboard > Other Reports, select the report you require.
To know how to export reports in a better way to show the putaway and quality check details, please click here
Note and Updates:
-You can scan reverse AWB number for taking putaway scan to take the item back on the shelf.
-You can take Partial reverse pickup items while doing putaway in case of multi-item shipment is     back by the customer.
-New create user roles specifically for reverse pickup feature.
–For Enterprise Version Only, features like (Getting CIR, Creating Reverse Pickups, allocating AWBs, tracking Reverse Pickups) are currently supported for Delhivery, Fetchr, Ecom Express & Shadowfax.