Click here for Tutorial Video – English
Click here for Tutorial Video – Hindi
Recharging your Account:
1- Go to billing section under login/logout option.
2- Once you click on "Recharge Now" from the Account Summary page, you will get the following screen where you can choose the recharge denomination.

3- You can top up your account with certain fixed denominations, depending on the package you are subscribed to.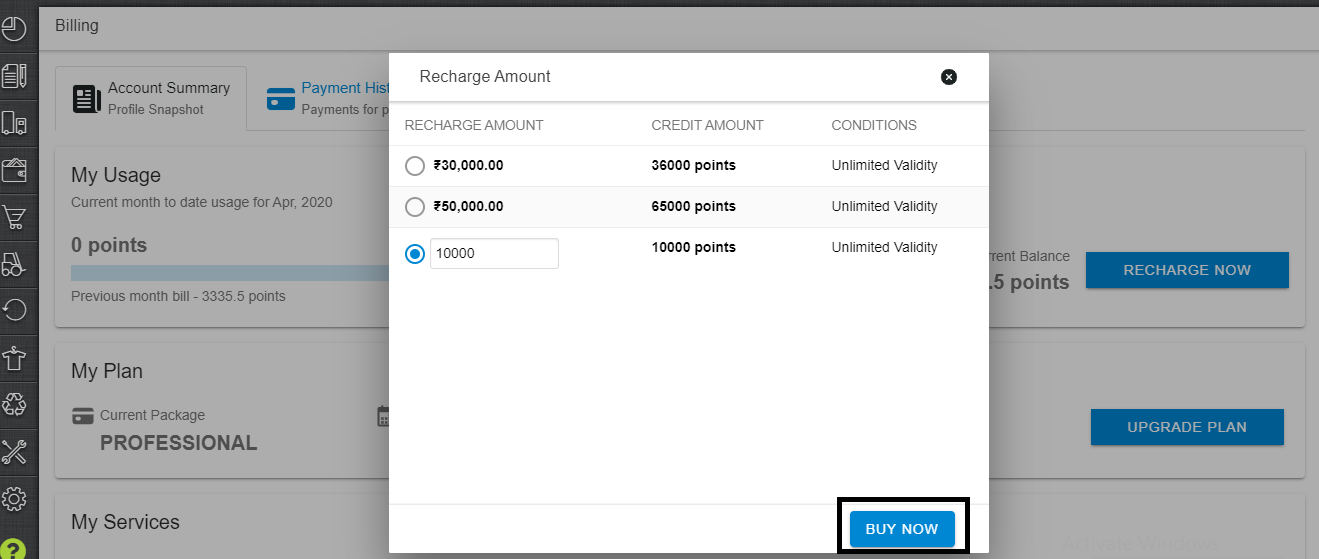 4- Once you choose the amount and the quantity, you will press on Buy Now, after which you will be taken to Checkout screen and then the payment screen.
Payment can be made in 2 ways: Online/ by Cheque(or NEFT), but we suggest the seller for making a payment online mode.
5- Select the mode of payment and click Pay Now.
Recharge Related FAQs :
Q1. Is there a limit to the number of times I can recharge my account in a month/week?
A: No, you can recharge your account as many times as you want over a period of time.
Q2. What will happen to the advance amount that I have paid by cheque/online to Uniware already?
A: When we migrate your system, the entire unused advance amount that we have received from you would be credited to your Uniware account as credit balance.
Q3. What happens in case my payment fails at the payment gateway?
A: Please get in touch with our support team in such cases.
Q4.  What happens in case my cheque fails during verification?
A: Our support team will get in touch with you in case your cheque fails verification. Depending on the resolution, you can either issue another cheque or pay using payment gateway.
Q5. How is the price per invoice determined?
A: Price per invoice is a function of the base package you've purchased as well as any additional services you have subscribed to. Taking cognizance of both, we will tabulate a price per invoice value for your account.
Q6.  Will I be charged for acknowledging a return?
A: No, you will not be charged separately for acknowledging a return.
Q7. What happens if my balance becomes 0?
A: If your balance gets 0 you would not be able to process orders from Uniware if your balance goes below 0. You would need to recharge to continue operations in such cases. We will provide you necessary alerts for the same.
Q8. When my TDS is deducted from the amount recharged, how is it handled in my account?
A: Uniware provides service recharge or credit in your account for the amount equal to the TDS deduction.
Q9. Is it possible to update Address details and GSTIN number in Uniware Payment invoices?
A:  Yes, now you can update Address details and GSTIN number by using a drop-down of already added billing parties in Uniware. Refer attachment: